Travel information
Favourite destinations

Phnom Penh
Phnom Penh is one of the cities attracting many international tourists because of its unique constructions with many influences of French and Khmer architecture. There are no white sand beaches and shimmering sun, no rolling hills and vast primeval forests but this is a great place for you to explore Cambodia's brother country. You can refer some interesting destinations in Phnom Penh as following:
Visiting Phnom Penh's Wat Phnom Temple
Wat Phnom is one of the oldest temples in Phnom Penh and is considered the most sacred temple in Cambodia. Visiting this temple you can see whole of Phnom Penh city because this is the highest point in the city. You can also learn about the history of the city and the legends about Cambodia.
Oudong and Koh Chen Island
You can also spend a day flying from Phnom Penh to the old capital of Cambodia. Get to know the local lifestyle of people living on the riverbanks and explore the floating fishing villages. Visiting Koh Chen island and the village famous for its silver craft. Koh Chen is the small island located on the Tonle Sap River. The island is famous for traditional crafts with handmade clay or silver items. Visitors to the island will have the opportunity to see complicated silver or ceramic items completely crafted and can pay to buy these as a souvenir. After that, you can enjoy a tuk tuk ride to the Oudong mounstains and discover the numerous Buddha statues hidden amongst the breathtaking scenery.
Royal Palace - the sparkling jewel of Phnom Penh
Royal Palace is a destination you should not miss. The palace is very beautiful and has a lot of things to see. It gives you a glimpse of Cambodian culture and hertitage. Built in 1866, the Royal Palace of Cambodia is combination of Buildings, the residence of the King and the royal family with a manicured campus and Khmer architecture, a great place to explore. This is also the place where royal court ceremonies as well as diplomatic ceremonies taking place. The palaces are sophisticately carved and in some places, you have to take off your shoes to get inside. There is also a beautiful palace which is tiles silver in place of the floor, it is carpeted but you will be able to see some silver panels as you walk. In addition, there is also a courtyard that has 600 metres of hand painted epic story of Hindu mythology Mahabharat on the walls, which is breathtaking. The entrance fee will also get you a free bottle of water, which is a nice gesture in boiling weather. Opening hours are from 8 am - 11 pm and 2 pm - 5 pm, we recommend spending 2-3 hours here and it is best to visit in the morning, when it is cooler and not crowded.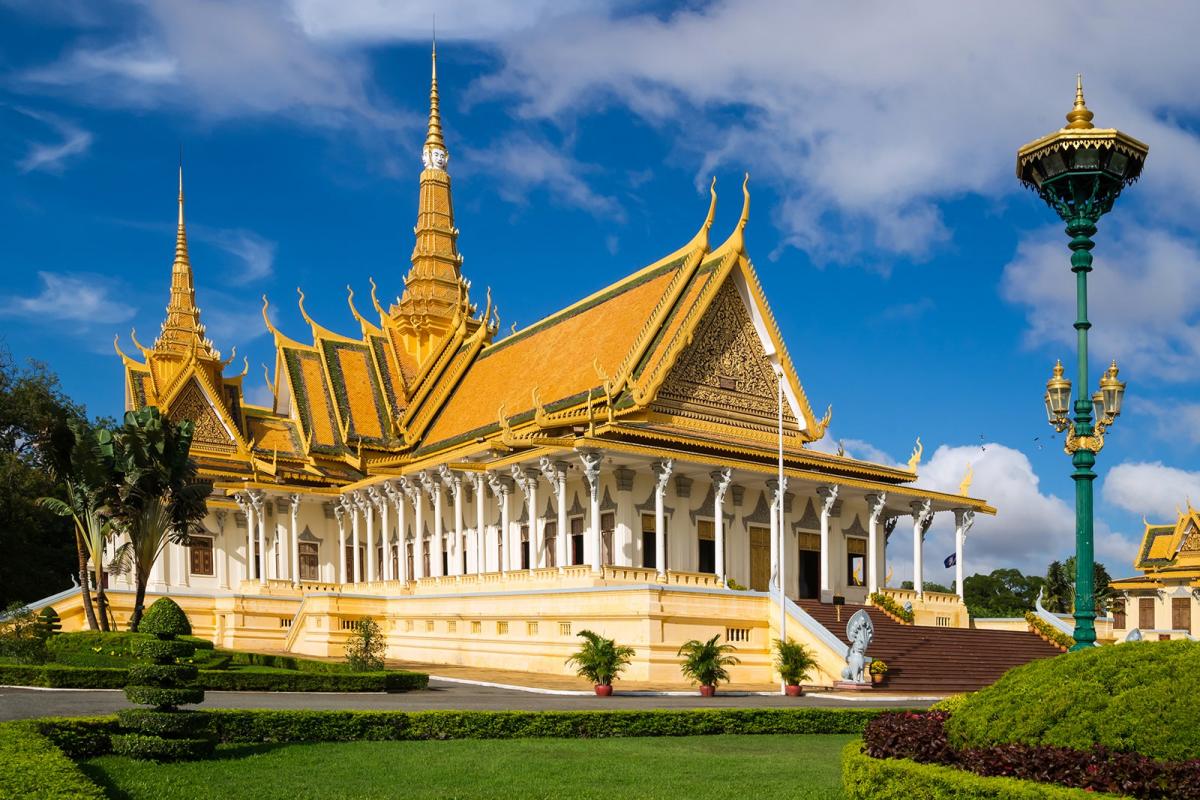 Visiting Choeung Ek Killing Fields
Located 14.5 km from Phnom Penh and only 30 minutes by car, Choeung Ek Killing Fields is the most popular tourist attraction in Cambodia. This is the place that shows the most genocide of Pol Pot regime in the 70s. According to the statistics, Choeung Ek had over 20,000 people killed by the Khmer Rouge but only about 8,985 corpses has been foound. Currently, in the center of the killing field, there is a memorial tower built to commemorate the unfortunate victims. This memorial tower contains more than 8,000 skulls of the victims.
Away from places filled with war remnants of Phnom Penh, you can take a tuk tuk and visit as well as enjoy food at the markets in Phnom Penh. From familiar dishes such as tofu nam vang, you can find very typical and strange dishes of Cambodia such as prahok, fried insects, jaggery ... with very reasonable prices. You can then take a stroll around the market to buy souvenirs. Items made from silk, silver and bandanna ... with a variety of materials, prices and designs are easy to find here.
Above all, Phnom Penh is a place you cannot miss when exploring Cambodia. While the country is famous for its many temples and ancient structures including the magnificent Angkor Wat in Siem Reap, Phnom Penh attracts more tourists because of its reasonable price. Coming here, you will feel like living in a country rich in history and tradition but also modern in its own way. You can choose a one-day tour to visit and explore the famous historical sites of Phnom Penh with a local guide. Its day-long Phnom Penh city and history tour takes guests to the National Museum, Royal Palace and Silver Pagoda, Wat Phnom, the notorious Tuol Sleng genocide museum and then to the Killing Fields. The trip rounds off with a walk along Riverside before guests can enjoy free time enjoying the entertainment Sisowath Quay has to offer.
If you want to explore Phnom Penh on your own, tuk tuks are the most popular means. A trip around town shouldn't cost more than a few dollars and you can bargain the price.
It is very easy to travel from Ho Chi Minh City to Phnom Penh by just a bus. You absolutely can consider a tour from Ho Chi Minh to Cambodia. In addition, if you want to go directly to Phnom Penh, international flights will always be available to you.
Find the journey that suits you and BOOK NOW for the perfect experience.