Travel information
Favourite destinations

Luang Prabang
Laos promotes its tourism as "Simply Beautiful" - and Luang Prabang is indeed simply beautiful. It's a mesmerizing city filled with over 33 temples, vibrant nightlife, stunning nature, and so much more, which is why it's the country's first UNESCO World Heritage Site. There are so many reasons to urge tourists to visit this city.
Let's discover the things that make the charm of this pearl of the land of Million Elephants.
Own the most beautiful waterfalls in the area
Laos may be a landlocked country, but it certainly has some of the most beautiful waterfalls in the region. While the waterfalls themselves aren't in the city, they're definitely worth the trip there.
Specific attractions not to be missed is Kuang Si Waterfall, a three-tiered waterfall about 29 kilometers (18 mi) south of Luang Prabang accompanied by beautiful turquoise pools cascading down to limestone formations. This is a breaktaking waterfall with beautifully colored water and so clear that you can see the bottom and see schools of fish swimming. It is not too crowded. You can walk as far as you like but even the top most layer is only a 10 - 15 minute walk of fairly easy climbing. One note is that you need to prepare a best pair of shoes because the route will be quite slippery.
Tad Sae Waterfalls is not as famous and not as high as Kuang Si waterfall, but it is worth a visit with its lovely waterfall, clear blue water and unspoiled an peaceful space. The flat rock faces lined up in layers, forming steps for the waterfall to flow down is one of the special features of this waterfall. Note that you should visit the waterfall during the raining season and avoid coming on the dry season because it will usually have no water.
| | |
| --- | --- |
| Kuang Si Waterfall | Tad Sae |
Experience the majestic temples
There are many attractions in Luang Prabang but most of them pale in comparison to the beautiful golden pagodas. There are 34 active temples in the city, and all of them are beautifully gilded, giving Luang Prabang a deeply spiritual feel. They are called Wats, and they are known to have a very relaxing and soothing atmosphere, especially as you walk through its golden and burgundy grounds. The most famous temple is called Wat Xieng Thong, which was built in the 1500s and is one of the most amazing places to visit in Luang Prabang.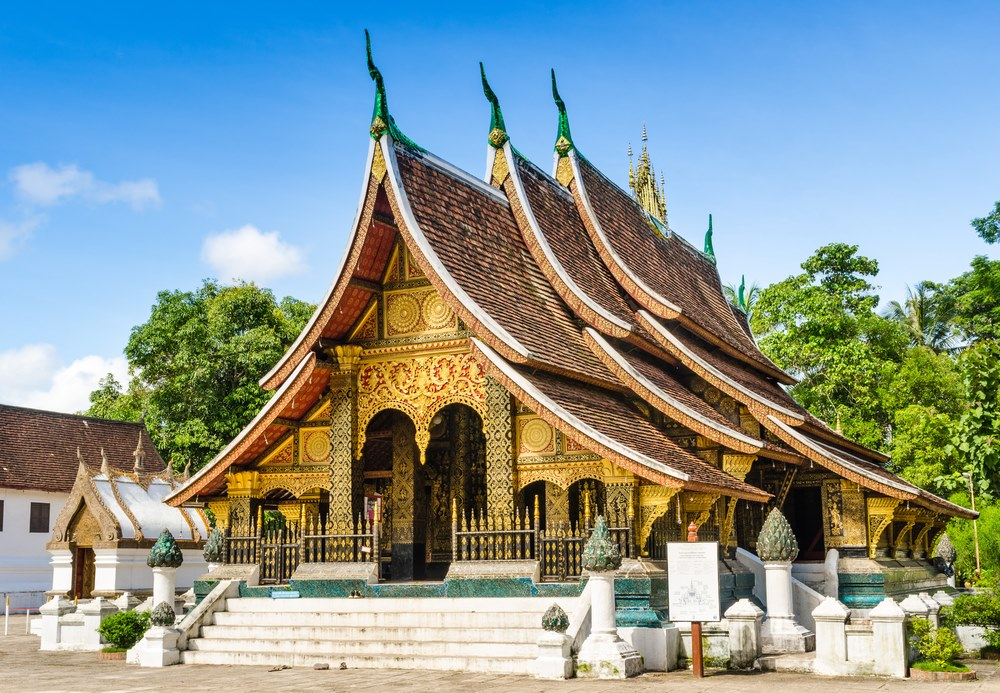 Enjoy the famous night markets
Not as busy and bustling as other places, but Luang Prang night market still makes visitors feel happy and comfortable when shopping. You can choose to buy souvenirs sold along Sakkaline Street, open from 6pm to 10pm daily. Here is where you'll easily find the spirit of Laos concentrated in one spot because it's filled with people from several different regions around Luang Prabang. Many of the goods that are for sale on the stalls are handmade. There are plenty of different items on sale depending on the season, ranging from simple wood carvings to ornate jewelry and trinkets.
Boat ride on the Mekong River
One of the best ways to experience the surroundings of Luang Prabang is to take a river cruise down the stunning Mekong. It's one of the best things to do in Luang Prabang, especially considering that you'll be seeing a lot of the biggest highlights in the region. What's great about these tours is that there are plenty of options to choose from – from basic boats all the way to luxury vessels. Touring the Mekong is best done right before sunset because then you'll be able to truly enjoy the splendor of the surrounding nature, and you'll be able to see the locals finishing up their daily routines.
Indeed, it's a pity if tourists travel to Laos without having a stopover in Luang Prabang. It is definitely 'of undisputed origin and not a copy of anywhere else. We hope that the provided information will be greatly helpful for your trip.