Travel information
Favourite destinations

The best things to do in Kuala Pumpur
Kuala Lumpur is famous as the the moderm and developed city in Malaysia. Malaysia's capital is widely known for its many landmarks, including Petronas Twin Towers (a twin skyscraper with an overhead bridge and observatory), the flea market on Petaling street and Batu Cave with more than 400-million-year-old. Tourists can also see Bristish colonial architecture in the city such as the Sultan Abdul Samad and Kuala Lumpur Railway Station. In addition, foodies also have many good reasons to love city because it is full of because it is full of hawker stalls, cafes and restaurants that are always ready to serve every request of visitors. There are many reasons to make Kuala Lumpur must be on your list of indispensable destinations when visiting Malaysia. Here are a few suggested destinations for you:
Petronas Twin Towers - Breathtaking View of the Tower
The petronas twin towers are a great place to visit as it is the 5th talest tower in the world. These giant metal structures are 452 metres in height and look like something out of Gotham City. This is a do not miss tour if you are in Kuala Lumpur as you get to tour the bridge link between Tower 1 & 2 then the top floor of Tower 1 with amazing views if Kuala Lumpur and Tower 2. The tour last approximately 30 to 45 minutes and was definitely worth the price with amazing photo opportunities from the bridge and top floor. It was very beautiful at night, the lights, and the fountain dance. The Twin Towers Visit Operations is open Tuesday through Sunday and tickets are released at 8:30 a.m. on a first-come, first-served basis, so you should book your tickets well in advance.
Visiting KLCC park
Kuala Lumpur is a large busy city, so if you want to find a quiet space in the center of city, KLCC park is for you. Right underneath the Petronas Towers and next to the Suria KLCC mall, the park is great for a stroll or run. There are several features to the park, the main ones being the water features which are really nice. You can come here at anytime you like. However, we recommend that early morning is really nice for walking or running track with fresh air to begin a new day. During the day still many spots you can enjoy here. This city can be as picnic spots to chitchat with friends or family, and also an available water park for kids to have fun during the day. At evening the vibe so chills with the colorful light and water dance with nice music. You can enjoy the fountain show (music and lights) at 8.00pm and the light show at 7.30pm was also worth seeing.
Batu Caves
No visit Kuala Lumpur, or indeed Malaysia, would be complete without a visit to the extraordinary Batu Caves. Batu Caves is home to a grotto of temples that have become among the most revered Hindu shrines outside of India. Located to the north of Kuala Lumpur, Batu Cave sit in limstone hills, offering stunning views of nature as well as splendid Hindu holy sites within them that they are famous for.
The architecture and colors of the caves reflect the fine and detailed Indian culture. You will have to climb 272 colored steps to get into the cave, but it won't disappoint you because you wil feel like you are traveling in India. It is important to watch carefully while you are nearby the stairs from the monkeys because they may grab your belongings and run so don't bother them and better not to open your camera flashes infront of the monkeys. There is also a great ancient cave made of limestone at the top of the hill. The Golden Murugan statue is also amazing to see and there are pictures in front of the birds.
If you are staying in Kuala Lumpur, there are different modes of transportation available to you depending on your preferences. The most convenient way to visit the caves is by taxi. It will cost about 15 minutes from the center of Kuala Lumpur city to Batu Caves. If the cost of taxi ride will eat up your travel budget, consider taking the train. Commuter trains run regularly from Kuala Lumpur Sentral Station to Batu Caves and are much more affordable.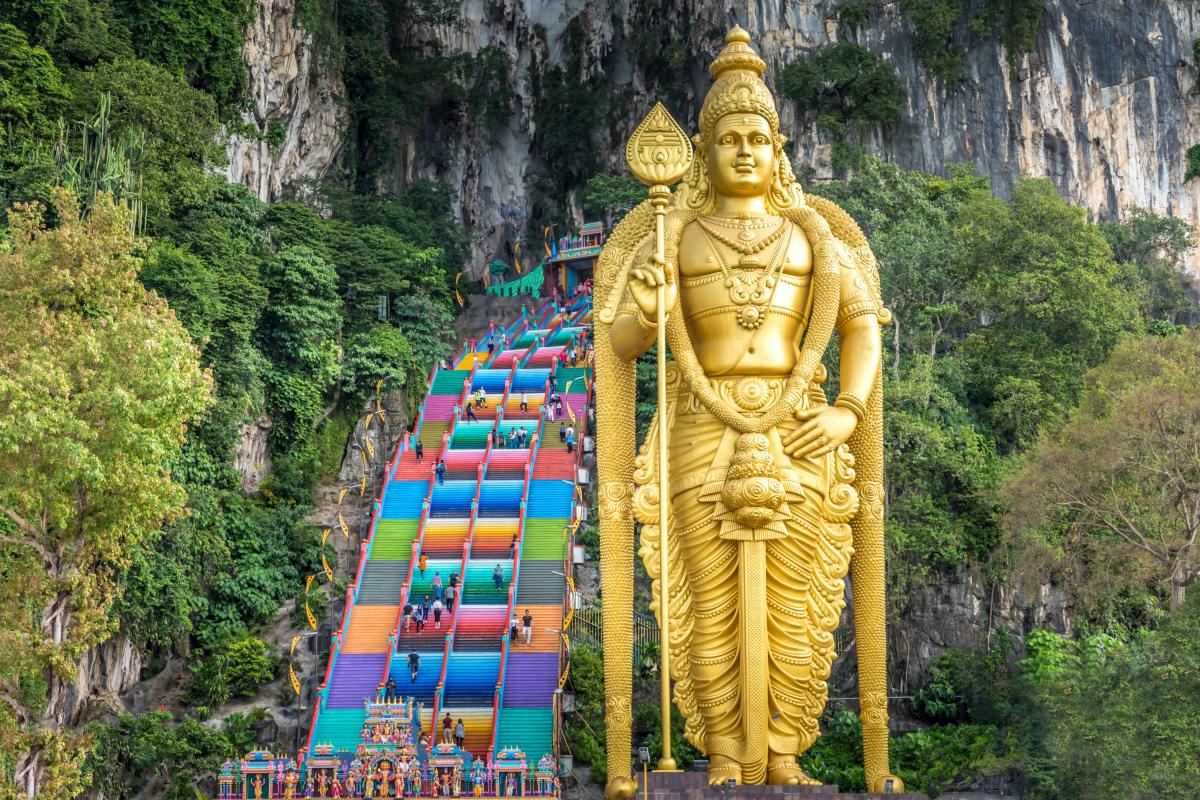 Thean Hou Palace
While many tourists prioritize visiting some famous destinations such as Petronas Twin Towers or Batu Caves, we recommend that you shoul put Thean Hou Palace on your list of must-see destinations when arriving Malaysia.
This ornate Chinese temple dedicated to the Queen of Heaven, Thean Hou, the protector of those who earn their living from the sea. This is one of the most beautiful and photogenic places in Kuala Lumpur. The temple borrows from Buddhist, Taoist and Confucian traditions with excellent architecture. The temple is very ornately decorated with colorful design and peaceful space that will definitely be the ideal check-in location for you.
If you visit this place on a sunny day, you will definitely have the best photo of your entire journey. There are some devotees praying insite the Chinese temple, but you can still take pictures and enjoy your time nearby, In addition, the temple does not charge an entrance fee and even during peal period, the temple is rarely overcrowded. You definitely won't be disappointed when visiting this temple.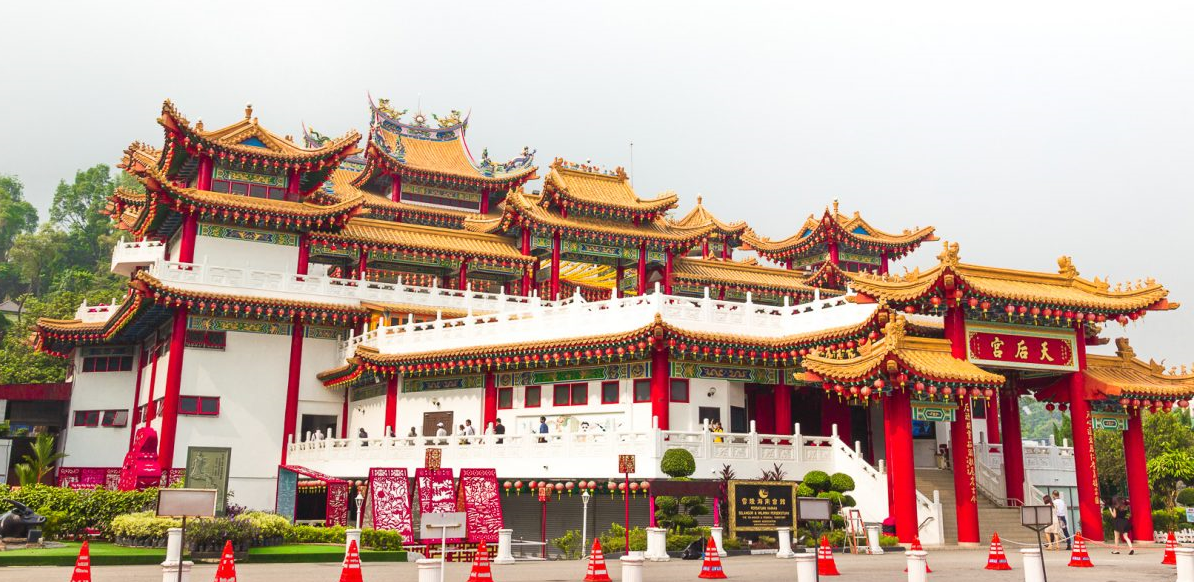 Kuala Lumpur is the best place to indulge in the finest culinary delights. You will find a mix of several Malay dishes and other cuisine such as Chinese and Indian dishes. You can relish everything from native to gourmet and intercontinental dishes. Malay dishes are characterized by spicy and intensely curried ingredients, and sweet-smelling aromas. The Malay favourite food is known as Sambal, which is made up of prawn paste, lime juice and a hot paste of pounded chillies. Sambal is usually eaten with rice and It's really tasty! There are several restaurants in the city, where you can enjoy these foods with sweet-smelling aromas and delicious tastes.
Kuala Lumpur offers everything under its skies to everyone who would love to visit. There are lots of things to see and do, visitors will surely have a great and fun-filled vacation and experience in the city. Why don't you start planning your trip now?