Travel information
Favourite destinations

Bangkok
Dubbed as the shopping paradise of Thailand, Bangkok is famous for many bustling shopping centers, traditional markets famous for a variety of goods but always attracts shopaholics. With hundreds of shopping malls, traditional markets, night markets and weekend markets ... tourists can find any item you want with a lot of prices that suit your budget. Not only attractive as shopping paradise, there are many interesting things about the culture, cuisine and people in Bangkok that are worth a visit.
Here are some interesting destinations you should not miss when arriving in Bangkok:
Grand Palace
The first destination that you must visit when arriving in Bangkok is Grand Palace - the most interesting destination in Bangkok consists of adjacent complexes. Located in the center of Bangkok, Grand Palace is a beautiful complex that expresses the grandeur and luxury of Thai royal family. It attracts tourists by the gold plated walls, Buddhist sculptures, and elaborate paintings. From the complicated details of the buldings to the attractive stories behind each structure, every corner of the palace is the proof for the country's cultural heritage. An important note is that you must wear long pants and a shirt covering your shoulders when visiting this place, otherwise you will not be allowed to enter. This place also will lost entrance ticket but it will be totally worth it. In addition, there are tours to Bangkok Royal Palace in the morning that will provide you a guide and a more favorable entrance ticket.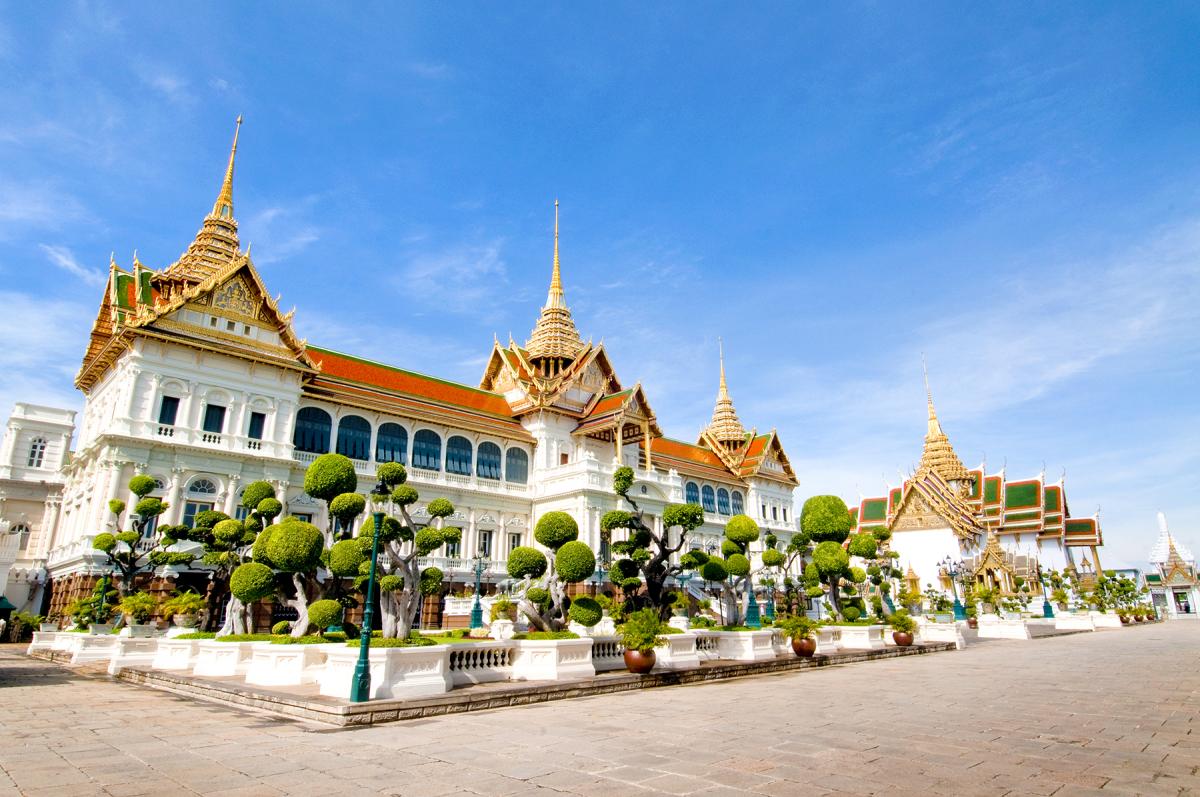 Discover the most sacred temples in Bangkok
The Golden Temple is one of the holiest places for Sikh around the world. It is a blusting place with full of workshipers and tourists but it still remains peaceful and spiritual. The main room sits in the middle of a lake and devotees will line up here peacefully to pray and pay their respects. Discovering temples with unique architecture and solid gold statues which characterize the country of the Golden Temple will be the next thing you need to do in Bangkok.
Wat Pho - the temple with the longest Reclining Buddha in the World or Wat Arun - the oldest temple in Bangkok ... is with strong spiritual and cultural values of Thailand. All temples provide free admission ticket for all tourists.
| | |
| --- | --- |
| Wat Arun | Wat Phra Singh |
Explore the shopping paradise in Bangkok
Bangkok is not only attractive for its scenery and temples, but also famous for its great shopping experience. With hundreds of malls, markets, you will never run out of shopping places. However, shopping in Bangkok is not just about buying luxury items. You can also find unique products, beautiful handmade items and unique local products. Besides, you can also enjoy delicious street food, chat with locals and learn about local culture at local markets such as Weekend Market and Khao San Road. From popular shopping places as Damnoel Sadua Floating Market; Gaysorn Bangkok to luxury shopping centers as Central World; Terminal 21 Shopping Mall; Siam Paragon or Platinum Fashion Mall ... all are waiting for you.
In addition to the cultural destinations and crowded commercial centers, Bangkok's street food is also really attractive. Visit China town, Patpong Night Market, Khao San Road or Damnoen Saduak Floating Market and you won't be disappointed with the variety of food and flavors. Thai food combines five different flavors in each dish including spicy, salty, sweet, sour and bitter. Some of the best street foods are Thai rice noodles, papaya salad, marinated and grilled meat skewers, and many Thai desserts.
| | |
| --- | --- |
| Sathorn, Bangkok | Bangkok Weekend Chatuchak Markets |
As the capital and gateway of Thailand, Bangkok is always the first destination to set foot in your Thailand tour. Thailand currently has two major international airports: Don Muang and Suvarnabhumi. However, most airlines will stop at Suvarnabhumi International Airport instead of Don Muang Airport. Many prestige airlines provide air tickets to this airport. Of which, Thai airways, the largest and most prestigious national airline in Thailand with many flights departing from/arriving at Europe, Asia, North America, the Middle East, Pacific Ocean and Australia is always the first choice for international tourists.
To move from Suvarnabhumi Airport to central of Bangkok, tourists can choose Airport Rail Link; Taxi or bus. Taxis are the fastest and most convenient option, but the cost is quite high while most taxi drivers in Thailand don't turn on their meter, so you should pay attention before boarding any taxi. In addition, the Airport rail Link train line from Suvarnabhumi to Bangkok will be more financially suitable.
As one of the cities with the most modern transportation system in Southeast Asia, there are many transport vehicles around Bangkok such as Skytrain BTS; MRT; Tuk Tuk; taxi; bus or motorbike rental service, car rental or driver rental. Let's take a try when you come to Bangkok!. For convenience when traveling and dining, you can rent a hotel or homestays in Chinatown area near Khao San Road with lots of delicious food.
In addition, when traveling to Bangkok, tourists can also combine travel to the Pattaya coastal city as it is very interesting and convenient to get there from Bangkok with only about 2 driving hours. 4 days 3 nights Bangkok - Pattaya tour will be enough for you to explore the impressive and famous tourist destinations of these two cities.
Bangkok is truly the great destination for all travelers because it offers all the necessary services including sightseeing, cultural exploration, shopping and dining. Let book the ticket to visit Bangkok together with friends and family right away with us!!!